As the year comes to a close, here are the top 10 energy news stories that grabbed our attention in 2021. We are wishing you and yours a happy and successful New Year!
10. New Geo-Thermal Technology Discovered
According to this article from Powermag, a new geothermal electricity generation process was discovered that could increase geothermal generation more than 26-fold by 2050. The new technology includes deep drilling (12+ miles into the earth) to access hotter rock formations to generate power.
9. Cancellation of Keystone Pipeline Permit
After taking office, President Biden put an end to the Keystone pipeline permit in essence shutting down the pipeline project. Citing environmental issues related to natural gas fracking, he also banned all drilling on federal lands. Read more about the Keystone pipeline in this article here.
8. Infrastructure Investment and Jobs Act: EV Charging
The passing of the Infrastructure Investment and Jobs Act did a lot of things for the energy sector, especially electric vehicle charging (EV charging). In fact, the bill allotted over $7 billion for building out the EV charging station network and over $5 billion for electric buses. See more here.
7. Energy Stocks and ETF's Become Hot Investments
Investing in the energy sector was a smart move in 2021. In fact, energy stocks and ETFs grew on average 70% in 2021. Much of this growth had to do with increased profits from climbing energy prices. Read more about energy investments in 2021 here.
6. The World's Largest Battery System Is Up and Running
In California, Vistra Energy took on a project to develop a 300 MW / 1,200 MWh battery storage system called the Moss Landing Energy Storage Facility. The storage system was built adjacent to a natural gas electricity generation facility. Read more about Vistra's project here.
5. Renewables Faced Supply Chain Issues
2021 was the first year clean energy solutions faced mining problems. Many of the minerals needed to produce solar panels, batteries for electric vehicles, and wind turbines were hard to come by in 2021. Read more about the supply chain issues facing the renewable space here.
4. Gasoline Prices Surge by Over 40%
U.S. gasoline retail pump prices surge by over 40% in 2021. Due to increased consumer demand from COVID reopenings, a shortage of supply, and a global energy crunch, gas prices were on the rise. See a full chart of U.S. gas prices for 2021 below and by clicking here.
U.S. Retail Gasoline:

3. Oil Prices Surge 60%
The world saw an energy crunch in 2021 as increased demand from COVID reopenings met supply shortages. Some other geopolitical factors were at play as well causing oil prices to surge across the globe. Here is an article from Forbes on why oil prices are so high.
Crude Oil Brent (Co1):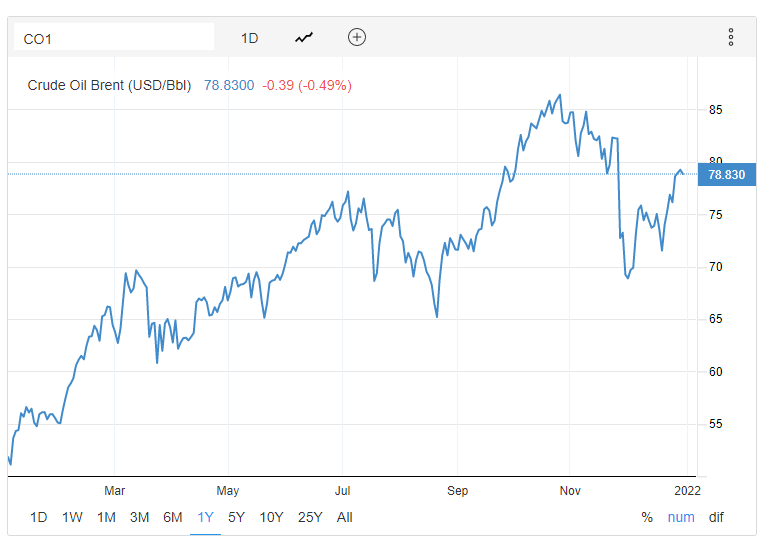 2. Natural Gas & Electricity Prices Rise Considerably Across Globe
Continuing with our theme of rising energy prices, natural gas and electricity prices were not too far behind. In fact, in 2021 U.S. natural gas prices rose over 60%. Because much of U.S. electricity generation comes from natural gas, power prices are also at 7-year highs in the U.S. Europe saw even higher, record-setting energy prices. More on European energy prices here.
NYMEX NG1: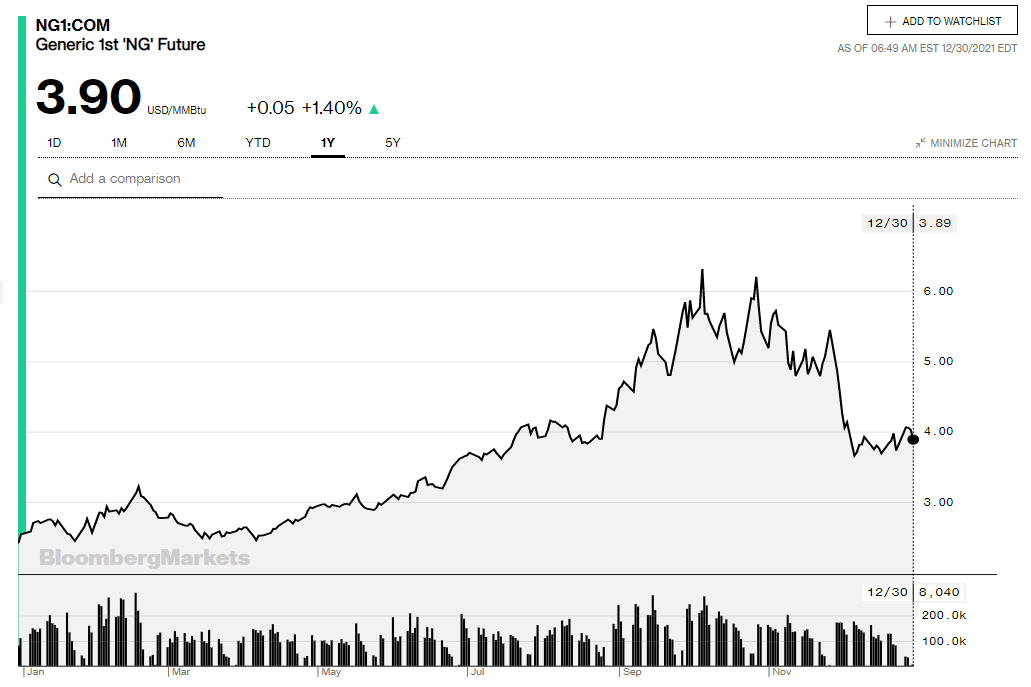 1. Texas Electric Grid Failure
In February, Texas saw a Winter like never before. Due to a lack of preparation, an unsophisticated electric grid, and increased heating demand, rolling power blackouts hit the state. Businesses and consumers were without power for weeks at a time and it became a major health crisis due to a lack of heat. More on the Texas electricity crisis of 2021 here.
Interested in staying up-to-date on the latest energy news stories from across the U.S. and around the globe? Subscribe to our email newsletter below to get updates like this on here. Happy New Year from Diversegy!