We tailor our search to sites that meet your needs and can accommodate current and future demand.
Through our in-house energy experts and real estate partners, we can help you expedite your rig set-up.
We help you navigate the free-trading energy markets so you can save on your biggest expense – energy.
We can implement and manage other savings initiatives, such as demand response energy load curtailment.

Electricity Supply Advisor For Crypto Mining Operations
.
As a crypto mining operation, electricity is one of your biggest costs. Understanding the various electricity supply products and gaining access to deregulated markets should be your utmost priority when planning your rig set-up. As an energy advisor and manager of millions of dollars worth of power spend monthly, our experts understand the various power supply products available in each market and can help guide you to low-cost solutions. Standard, regulated electricity rates will not allow you to be competitive in the mining industry. You need to learn how to take advantage of custom electricity supply products that allow you to purchase the lowest-cost energy for your rig. Here is an outline of some of the products on which we advise our clients:
Why Does Bitcoin Mining Use So Much Power
?
The practice of bitcoin mining is very energy-intensive. Because of the sheer computing power needed to properly operate a mining rig, large cooling systems are needed to keep the computers from overheating. These cooling systems are large electricity consumers and can drive up your power bills. Here are a few things to keep in mind at your rig:
Understanding Your Mining Set-Up
The first step to reducing the power costs of your mining rig is to truly understand what's using electricity, how it's being consumed, and how to better plan your usage. Since bitcoin mining consumes large amounts of electricity, there are certain things you can do to better plan your usage patterns. Here are some great thought-provoking questions we ask our bitcoin mining clients to help them make cost-effective energy plan.
When will you be mining?
How many rigs are running? Are they all on at the same time?
Does the rig need to be operating 24/7?
Can you shift mining hours to different times of the day?

Electric Demand
You need to understand your local utility tariffs. When choosing a site location for a mining operation, it is imperative to choose utilities with favorable cost schedules. First, know that your electric bill has two major components: demand and supply (see kW vs. kWh). The demand portion of your bill accounts for approximately 40% of your total power costs. Demand is measured based on your total electricity demand at any given time throughout a billing period. So, if you have several computers running at the same time, it will spike your demand costs. Staggering run times is a great way to lower power bills. Planning run times is a large part of our energy analysis.

Electric Usage
Next, let's look at power supply. Electricity supply accounts for the other 60% of your total power invoice. Electricity prices solely trade based on supply and demand. In deregulated states, there are 24-hour markets where power trades much cheaper at night when there is less demand. In regulated markets, you are at the mercy of the local utility billing schedules. Choosing the right state and utility to take advantage of low-cost power supply is imperative to turning profits at your mining operation.
How We Help Our Clients Plan For Low-Cost Energy
.
Having expert energy advisors in your corner is the difference between profitability and bankruptcy when setting up a bitcoin mining business. Our energy advisors have over 100 years of combined experience in the free-trading and regulated energy markets. We guide our clients in finding low-cost solutions for energy that can help them increase profits. These are the first areas we look at when conducting an initial analysis.
Supply Product Structure
There are an infinite number of electricity supply structures available in deregulated states. And, in regulated states, there are various utility billing schedules available to certain commercial customers. The first step in procuring low-cost electricity for your mining rig is to understand the products that are available to you and to put your business in a winning position from day one. Here are some of the electric supply products we have structured in the past:
Load-following block + index
Traditional block + index
Index with collars
Fully-bundled fixed pricing
Fixed energy with ancillary pass-through's
On-peak, Off-peak rate schedules
Layered Hedging

Futures Hedging
In deregulated energy states, futures markets exist that allow you to hedge power costs when markets are low. Having an advisor on your side who understands the fundamentals and technicals of these markets is critical to being successful. We advise our clients on market indicators and can help them hedge positions to save money. Futures hedging is complex and financially centric. It is important to do a thorough analysis and even draft a Pro-forma prior to executing any hedge contracts.

Load Shedding
Furthermore, there are several demand management solutions available in the market to help reduce your total electrical load. In addition, certain utility programs exist, such as demand response, that can help you generate cash for load shedding. The second component to reducing energy costs is to use less energy. Our experts can guide you through various energy efficiency solutions to reduce your total load.
We deliver the right electric supply solutions to help you save
.
Index-rate contracts, when structured properly, can serve a great purpose. We have the expertise to negotiate index structures that are transparent and truly market-following. Contact us to explore your options.
Take advantage of bear market

In the money when market is low
A product for those businesses seeking more flexibility
.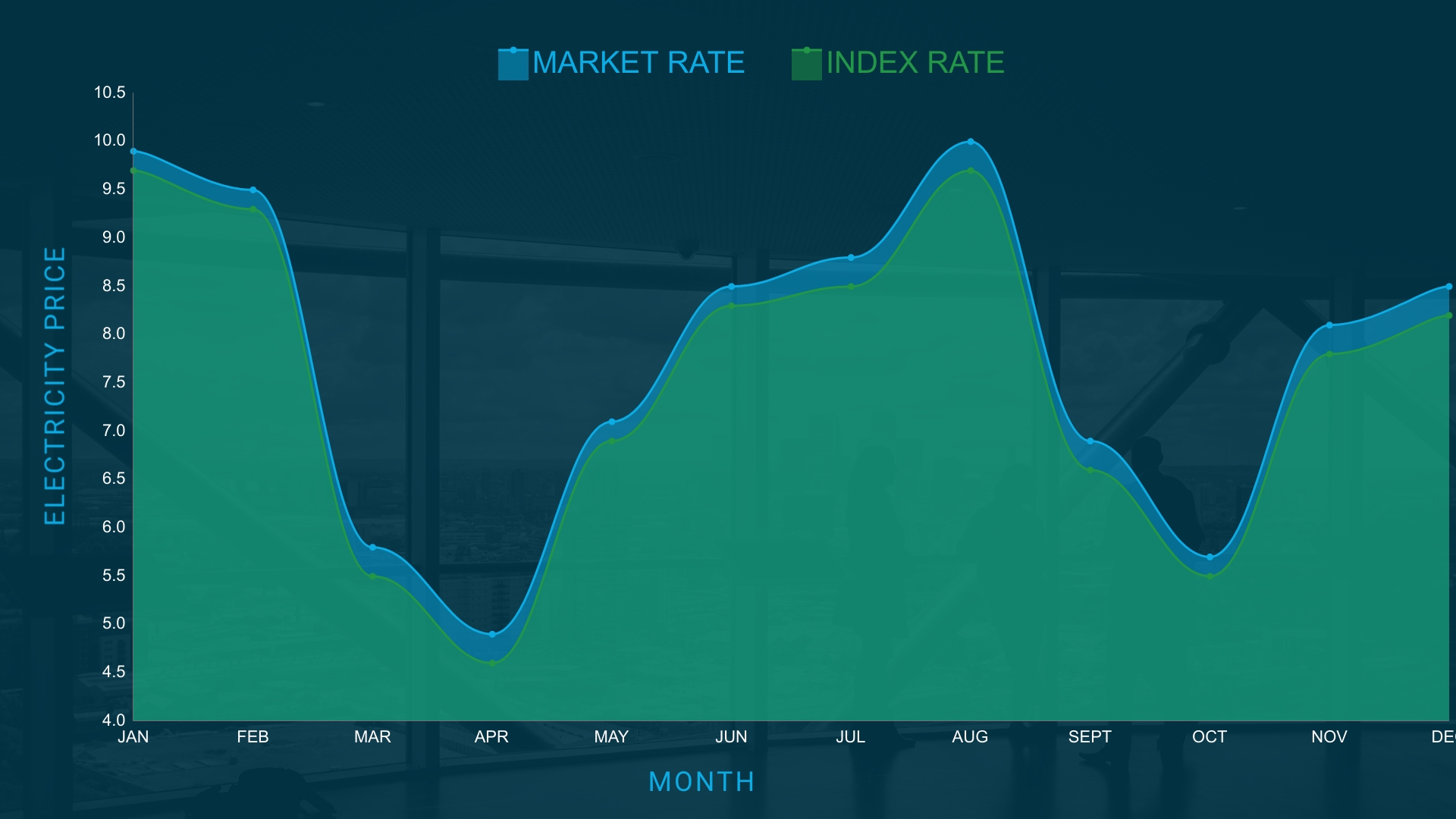 Ideal for those seeking the best of both worlds.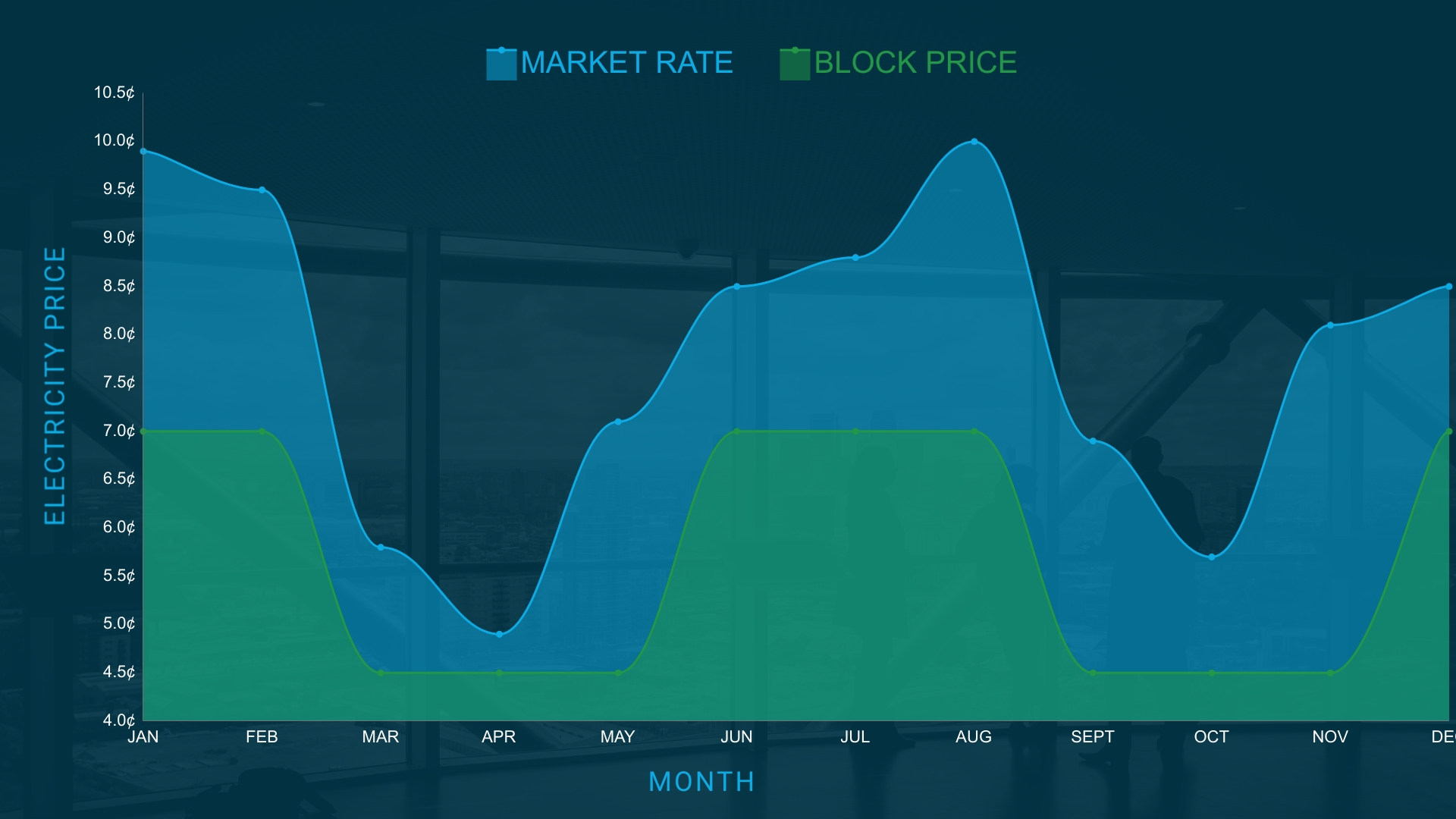 Typically used by larger users of electricity, a block + index structure allows you to hedge quantities of electricity consumption in the futures market while floating the remainder of your load on the open, index market.
"Block" or lock specific volumes

Float open index market during "unblocked" times

In the money when market is stable
A load-following product is perfect for larger energy users who have unpredictable usage patterns. For example, a manufacturing facility that has inconsistent run times can benefit from a load-following product.
"Block" or lock certain percentages of load

Float the open market for "unblocked" percentage

In the money when market is volatile
Load-Following Block + Index
A perfect fit for those with unpredictable usage.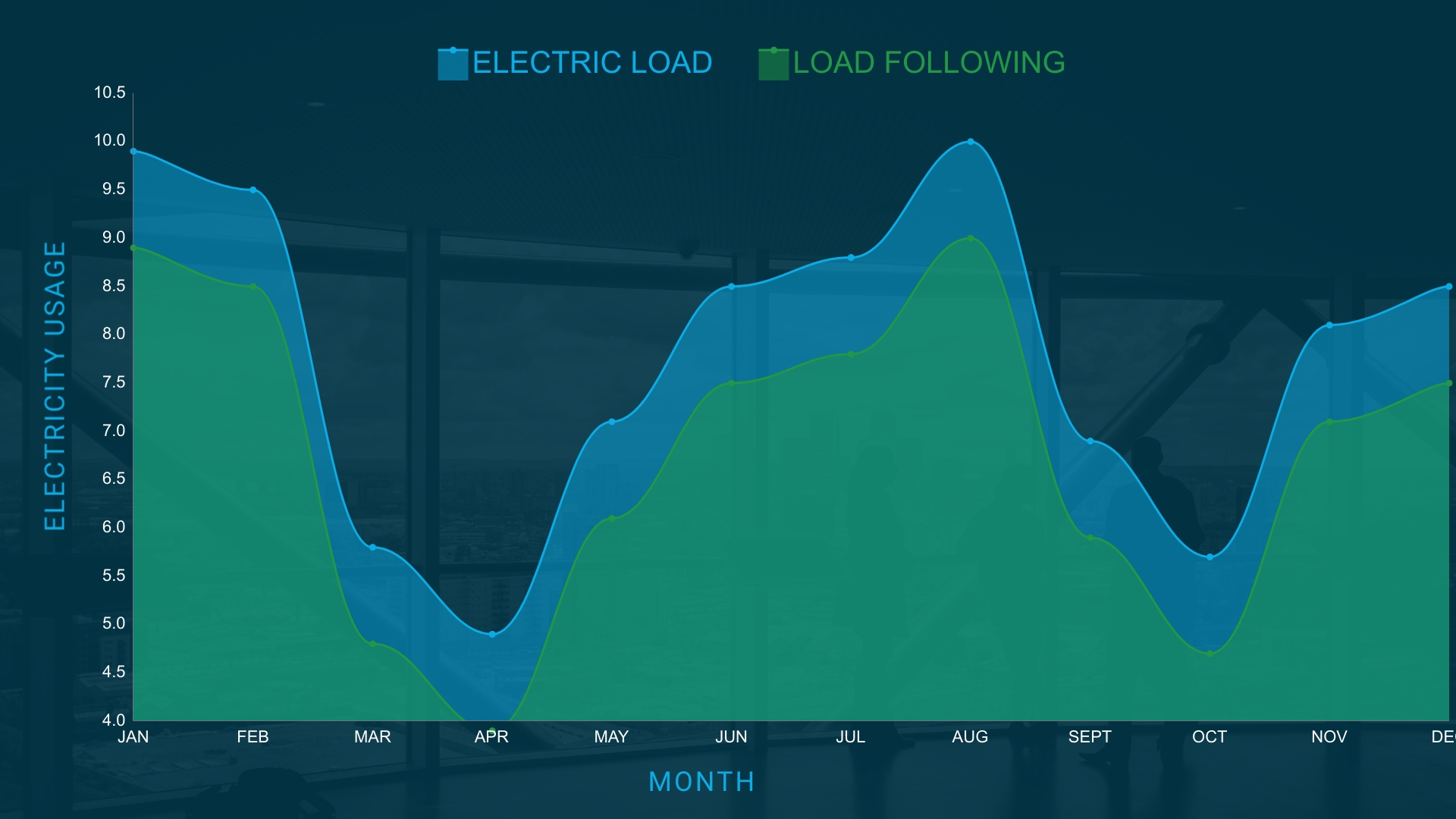 A perfect product for those looking for budget certainty.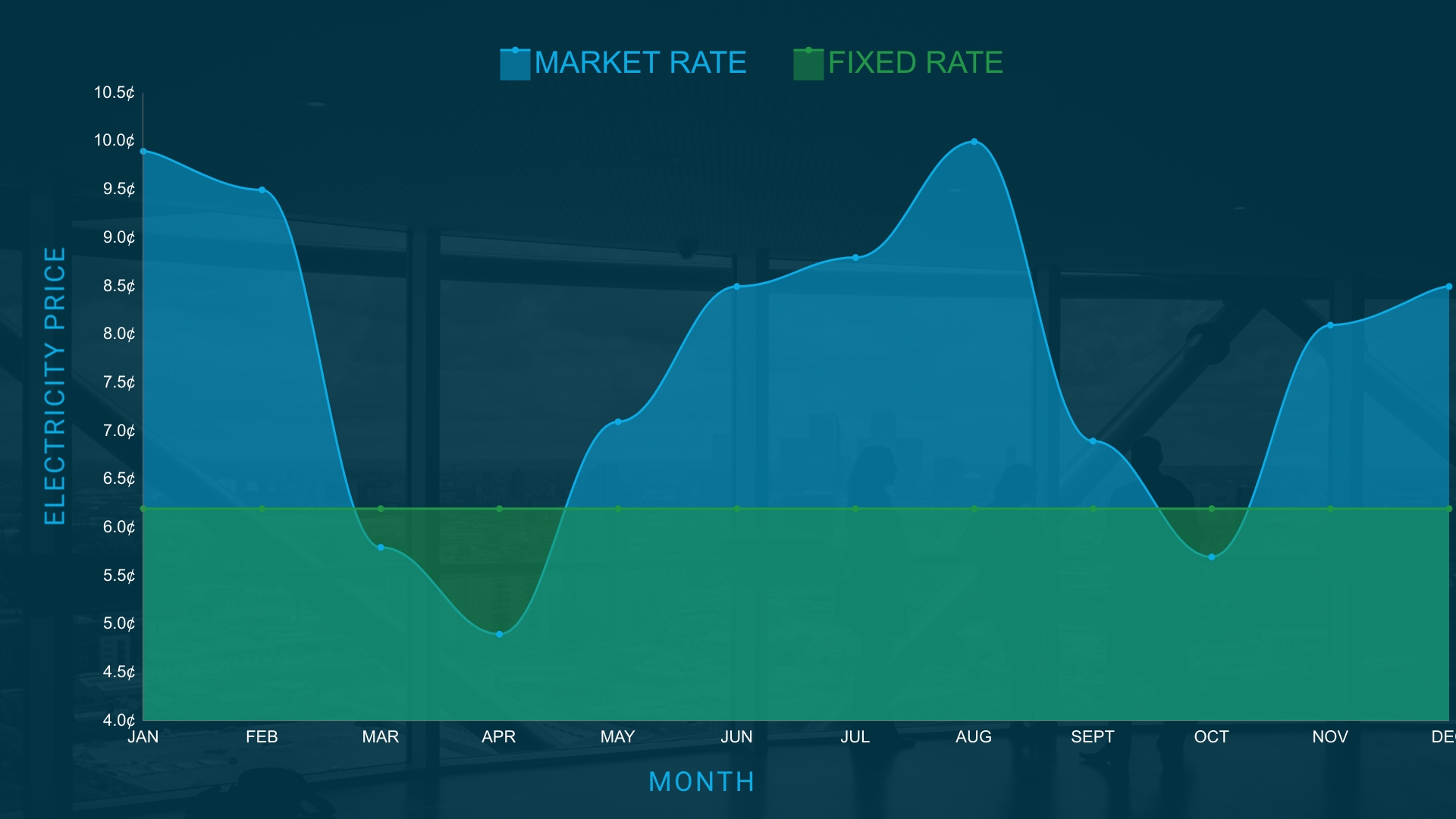 We aid our clients in finding the lowest fixed rates available in the market. When locking into a fixed-rate energy contract you should consider term length and execution date. Contact us to explore your options.
Fixed $ / kWh for term of agreement

Hedge utility costs for up to 5 years

In the money when market is high
We are trusted by some of the nation's leading brands:
Mining Rig Solutions
Made Simple.
1. Contact Us
Contact us to schedule an evaluation.
2. We Perform Analysis
We will analyze your needs and develop a plan.
3. Pro-Forma
We will develop a Pro-forma to include energy and real estate.
4. Search & Execution
We can help you find a site and get set up quickly.