Since 2020, there has been an electricity price increase that has drastically affected energy costs for businesses and consumers across the country. There are several reasons behind the recent increase in energy prices and varying opinions on the future outlook of energy rates. This article outlines the driving factors behind the price increase and the various future market outlooks.
Are Energy Prices Expected To Increase In 2023?
Since January 2020, energy prices have been on the rise due to a number of factors. As shown in the chart below, natural gas rates were as low as $2.00/MMBtu in January 2020 and hit highs of $9.80/MMBtu as recently as August 2022.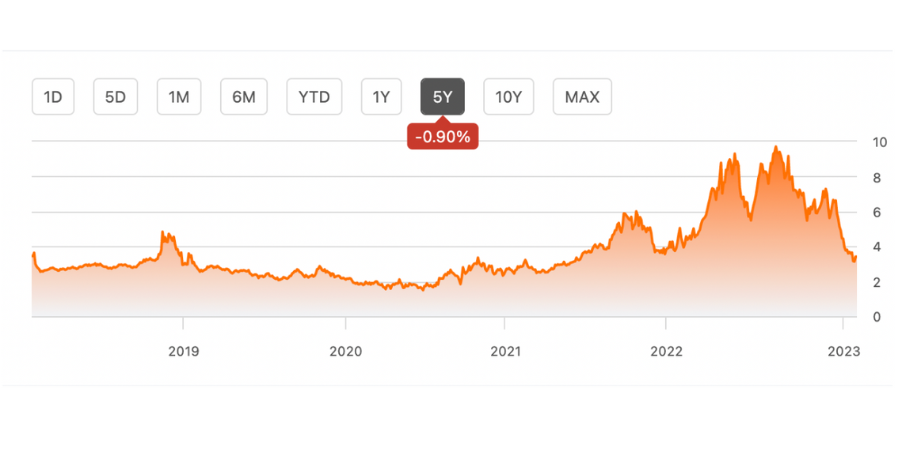 There are conflicting opinions, however, on the future outlook of energy prices in 2023. As you can see from the chart above, energy prices have been falling over the past few months. In fact, in January 2023, prices have somewhat normalized to their 5-year averages. Predicting the future price of energy is critical to managing your energy costs and hiring a knowledgeable energy broker could be your best bet to gain some insight and guidance.
Let's explore both sides of the argument…
Factors Supporting A Decrease In Energy Prices In 2023
The U.S. Energy Information Administration is predicting that energy prices will decrease in 2023 due to several factors. The chart below was released on January 18, 2023 by the EIA and illustrates their forecast for lower natural gas on the horizon: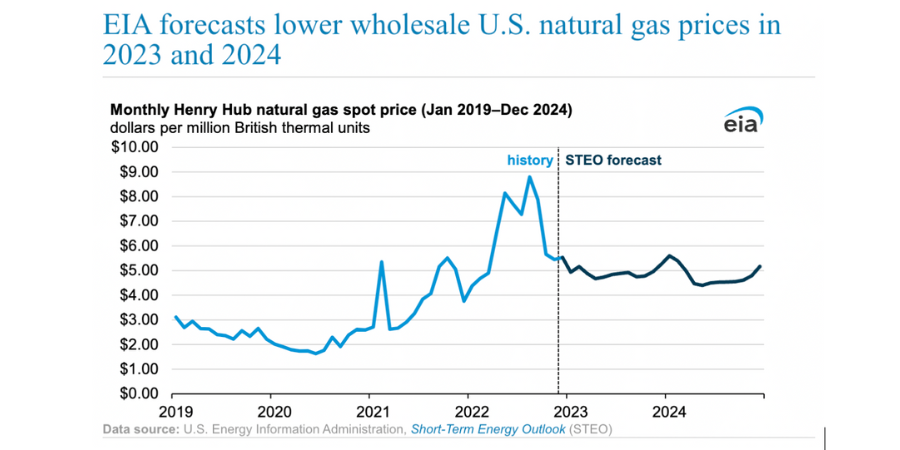 Some of the factors supporting this outlook include:
Mild Winter Temperatures: This Winter was predicted to be harsh and the milder-than-expected temperatures are lessening consumer demand for natural gas and electricity. These low demand figures are supporting the recent decline in energy rates.
LNG Exports Remaining Flat: Another key element that affects demand for U.S. natural gas are liquified natural gas (LNG) exports to Europe and Asia. LNG exports have remained flat and with the Freeport LNG plant coming back online after the recent fire, it will be able to soak up any increased LNG demand without affecting domestic supply levels.
European Demand: Europe has seemed to get its energy crisis under control temporarily with certain measures such as the European Gas Rate Cap. Because European demand for U.S. LNG is not as strong as it once was, this is deflating energy prices in the United States.
Dry Natural Gas Production: Dry, domestic natural gas production levels are increasing each week. In fact, due to the recent high natural gas prices, domestic dry natural gas production levels hit records in 2022. And, as evidenced by the chart below, are expected to continue on a similar trajectory in 2023: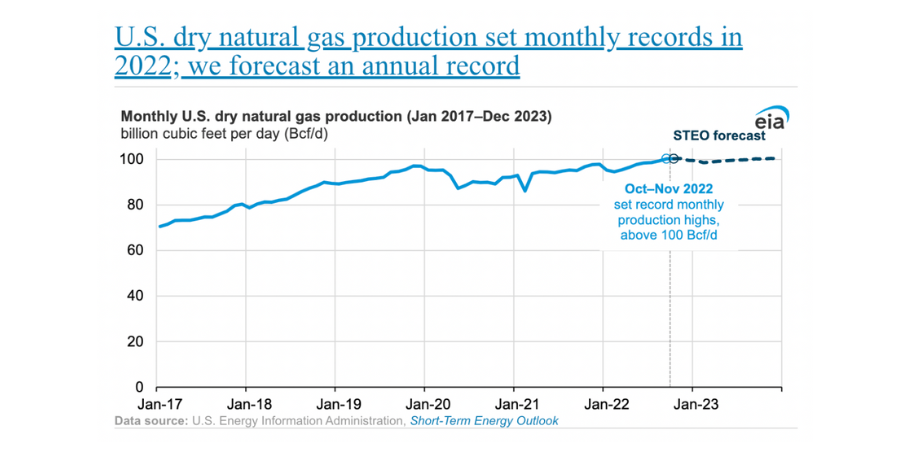 Factors Supporting An Energy Price Increase In 2023
There are other more bullish outlooks for energy prices in 2023. In fact, some experts believe that the Russia-Ukraine conflict could put European energy prices into a tailspin again causing a global energy crisis with high prices. Here are some of the factors supporting an electricity rate increase in 2023:
Russia-Ukraine Conflict: If the Russia-Ukraine conflict continues to escalate in 2023 and it drastically affects European energy supply, this could shift demand to U.S. resources causing an increase in rates.
Natural Gas Power Plants: The development of natural gas power plants in the U.S. has been on the rise with almost half of all U.S. electricity generation coming from gas. If summer temperatures are very hot, power generation will add more demand for natural gas causing prices to rise.
Electric Vehicles: The thousands of electric vehicles being sold each month are adding an unknown amount of demand to the U.S. electric grid. As the green energy movement continues, this increased demand for electricity will certainly cause prices to increase.
Need Help Navigating The Volatile Energy Markets In 2023?
In conclusion, not one energy expert has a crystal ball indicating the exact future price of energy. Professional energy advisors can only look to fundamental market indicators to predict the direction of the market. If you need help navigating energy markets and prices in 2023, our team of sophisticated energy advisors will guide you through your energy supply options.