Believe it or not, electricity is a product just like anything else and can be sold for a profit. But, you may be thinking that selling electricity is reserved for large power companies, utilities, and the upper echelon of society.
Well, you couldn't be more wrong!
There is an entire industry segment of energy brokers, electricity brokers, and business professionals making millions of dollars selling power.
If you live in a state that has deregulated its electricity or natural gas utilities, you might be familiar with the fact that you can choose an alternative energy supplier outside of your utility company. In the deregulated energy markets (see map below), electricity can be purchased off the wholesale markets from generators and re-sold to the end user.
Energy brokers, like Diversegy, act as advisors to commercial customers in deregulated markets by helping them to vet supplier quotes, negotiate contract terms, and find low electricity rates. Diversegy has many sales personnel that aid in the negotiation of electricity supply contracts between their customers and Diversegy's energy supplier partners.
But how does selling electricity work? Read on to explore this little-known business opportunity further.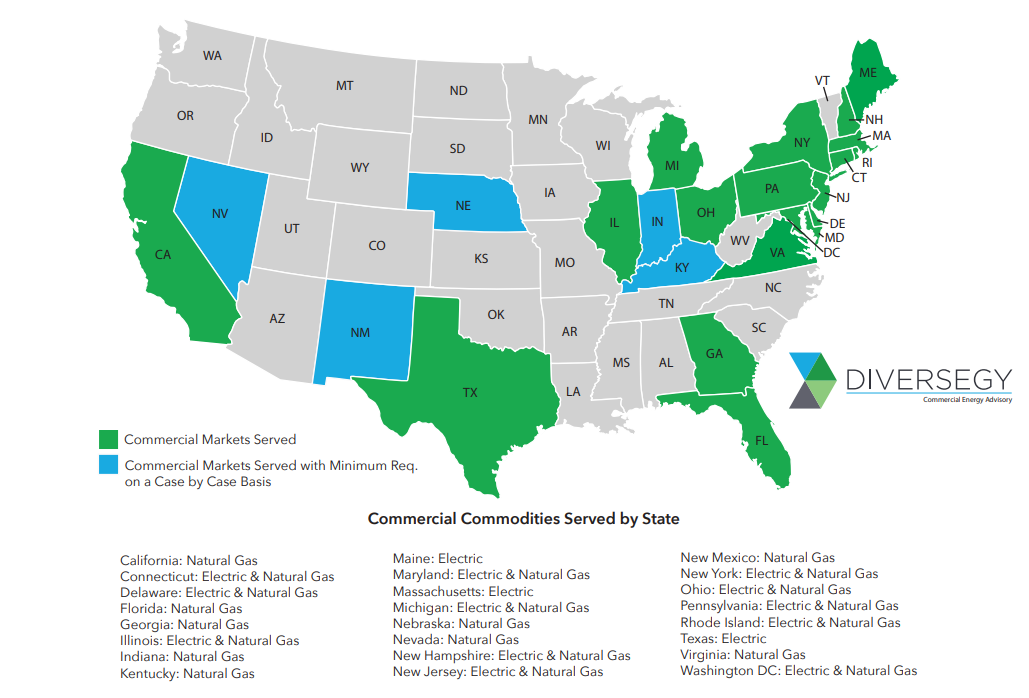 How Can I Make Money Selling Energy
?
If you've ever been to the energy corridor in Houston or looked at the Forbes Billionaire list, you will see the wealth created by the energy industry. When you take a moment to think about the industry, it's obvious why so many people are getting rich in the energy sector. Energy resources like electricity and natural gas are essential commodities to keep our homes heated, businesses running, and schools in operation. Everyone uses energy and life becomes much more difficult without it. So, it's a no brainer why the people selling it are having so much success. But, for many, the energy sector seems complicated, confusing, and impossible to enter. Energy industry professionals are doing the following to earn a six figure or seven figure six figure income selling electricity. Stay tuned…
So, How Does Making Money Selling Power Work
?
Energy sales people and sales agents have unlimited earning potential when it comes to selling electricity or natural gas to commercial customers.
The more customers sold, and the more energy consumption from those customers, the more income a sales person can earn.
Like any product, there is a cost, markup, and profit margin. In the world of electricity sales, salespeople earn a commission based on the total amount of electricity sold or consumed by their customers. So, if one were to sell power to a large manufacturing plant, he would earn a commission on all electricity sold and used by the plant.
Since energy sales people are paid on the energy usage of their customers, larger users equate to more commissions and lots of smaller users can earn you big dollars.
Here are some tips for understanding how to make money selling power and things you can do to become successful selling energy.
1.) Educate Yourself On The Market
.
In order to be successful in any industry, you must become an expert on the market, your product, and how to deliver value to your customers. The electricity industry is no different. You need to learn about kW, kWh, demand response, deregulated energy markets, the power grid, electrical transmission, energy capacity, business energy consumption, developing effective energy efficiency strategies, and more.
We recommend aligning with a reputable energy brokerage firm that can train you on the industry and provide you with support.
2.) Learn How The Money Works
.
Next, it's important to understand how electricity sales commissions work. Every energy brokerage firm offers a different compensation plan, but most are based on the total amount of electricity you sell.
So, if you sell a three-year electricity supply contract to a customer using 1,000,000 annual kWh of power, then you should earn a commission on 3,000,000 total kWh of electricity.
The great thing about selling power is that it allows you to develop a book of loyal energy customers that continue to renew contracts with you and your brokerage firm. Over time, you can build a large customer base that continues to pay you every month as your customers buy and consume electricity.
The next step to earning a six figure income in the energy business is to set a realistic goal. Assume that you are making a specific gross margin on every kWh of electricity consumed and work into the numbers backwards…
Assume your take-home margin on every kWh used is $0.0025 (or 2.5 mils)

Earning $100,000 per year ($8,300 per month) means your customers burn 3.32 million kWh per month

Set a date as to when you want to have enough customers to meet your goal
4.) Pick A Target Market
.
Okay, now you know you need to close enough customers to get to 3.32 million kWh per month or 39.84 million kWh per year. Now, you need to pick a target market to go after. It is very challenging to simply say 'I'm going to go after all types of customers' because in the energy business, anyone can be your customer. You can get distracted and discouraged in the sales process if you are not focused. Choose a sector to target such as cold storage facilities, hotels, or restaurants, and become the master at selling electricity to your sector.
5.) Run The Numbers and Work Your Plan
.
If restaurants happen to be your focus, decide on what the average restaurant customer will use. After you've determined your average customer's energy usage, you can work backwards to come up with an actionable plan. It might look something like this…
Restaurant average annual kWh usage: 300,000 kWh

Total annual kWh goal: 39.84 million kWh

Customers needed to reach goal: 133
Now that you know you need 133 customers in order to reach your goal of earning $100,000 per year residually, you simply need to work your plan. Figure out how many cold calls, prospecting emails, or face-to-face visits it takes to sell one customer. You might have to talk to 10 restaurants to close 1. And, as you get better that number might improve. Once you figure out your close ratio, simply take consistent action every day and you will achieve your goals. Need help setting your energy career goals? Contact one of our energy advisors today!
6.) Ongoing Training and Support
.
Selling Electricity With Diversegy
.
Diversegy's full-serve sales platform offers agents, teams, brokers, and customers many benefits. Our program is a commitment and investment into the future of the competitive retail energy industry.
The energy broker space is competitive and challenging for most energy salespeople. Selling energy is a difficult challenge in itself and competing with other top brokerage companies can add fuel to the fire. Aligning yourself with a reputable broker with a track record for success is paramount in having a successful energy sales career.
Diversegy, a wholly-owned subsidiary of publicly-traded Genie Energy, provides a winning formula for energy sales people, agents, and teams. Here are 5 reasons why energy sales reps earn more with Diversegy…
1.) Diversegy's Energy Expertise
.
One of the most overlooked aspects in the energy business is market knowledge. Energy markets are complex, unsophisticated, and confusing to most. And, pricing an electricity or natural gas deal can be challenging when you do not have the right resources in your corner. Many energy sales people simply look for brokers who will pay them the highest percentage of commission; however, they quite often overlook this aspect of the business.
Having a team of energy experts supporting your sales efforts could mean the difference between winning and losing a new customer. For example, Diversegy's support team has over 100 years of combined energy market experience that allows them to properly structure energy contracts to maximize profits and retain customers. Having a pricing analyst in your corner who understands the nuances of your local utility market could many times mean extra margin on a deal that translates into more commission for you.
2.) Diversegy's Energy Commission Plans
.
Diversegy offers one of the most aggressive compensation plans in the energy broker sector. Not only does Diversegy offer its sales partners, agents, brokers, and teams some of the highest commission splits, they also are willing to advance commission payments to improve your cash flow. Building your book of energy customers becomes much easier when you have money to invest in travel, meals, and entertainment with customers. Diversegy's sales people are at an advantage in the marketplace due to the nature of Diversegy's upfront commission plans.
3.) Energy Contract Renewals
.
Renewing your customers during favorable market conditions is the key to having a profitable book of energy customers. Most brokers do not give their agents and sales people the market insights and intelligence needed to renew customers at ideal times in order to maintain and increase margins. Salespeople in these scenarios are left at the mercy of the market and simply renew customer contracts when they come due. During certain volatile times, this strategy can cause you to lose half of your income or more to negative market swings.
Diversegy's expert team of market analysts are continually looking at future prices for opportunities to renew customers at better prices and higher broker margins. This continual watch over your book not only allows you to retain your customers better, but it allows you to increase your income over time. This alone is the key benefit to working with Diversegy.
4.) Energy Customer Retention
.
Diversegy's support system helps promote the renewal of your customer contracts. As a salesperson who is continually bringing on new customers, there comes a time when managing renewals is challenging. There is a constant balance between bringing on new customers and renewing old customers.
Diversegy's technology platform makes it simple to manage customer renewals, and their admin team helps support your customer retention efforts. Diversegy's sales people earn more over the lifetime of their energy careers simply due to a high retention rate of customers.
5.) Other Energy Solutions
.
Unlike many traditional energy brokers who simple offer electricity and natural gas supply solutions, Diversegy is a holistic energy advisory firm offering an array of energy solutions.
In addition to traditional energy procurement, Diversegy sales agents have the ability to cross sell other solutions like demand response, LED lighting, and solar energy. These additional energy products allow Diversegy sales people to earn more per customer when compared to other energy brokers and agents.
Diversegy's new platform empowers sales agents and energy brokers to develop, evaluate and quote low-cost energy supply options for commercial customers. Due to the efficiency that our new technology brings to a transaction, energy customers will benefit by paying lower prices and saving money on their utility bills. For more information on becoming a Diversgy customer, please contact us.
Ready To Get Started Selling Power
?
We offer a turn-key electricity sales solution to those looking to enter the energy sector. Through our robust energy technology platform and support team, we offer our sales partners an unprecedented opportunity to succeed selling energy to commercial and industrial customers. Contact us today to learn more about how you can begin making money selling electricity.