How To Make Money Selling Energy
.
If you've ever been to the energy corridor in Houston or looked at the Forbes Billionaire list, you will see the wealth created by the energy industry. When you take a moment to think about the industry, it's obvious why so many people are getting rich in the energy sector. Energy resources like electricity and natural gas are essential commodities to keep our homes heated, businesses running, and schools in operation. Everyone uses energy and life becomes much more difficult without it. So, it's a no brainer why the people selling it are having so much success. But, for many, the energy sector seems complicated, confusing, and impossible to enter. We're here today to show you how you can earn a six figure income selling electricity. Stay tuned…
Great question! Yes, it can! If you live in a state that has deregulated its electricity or natural gas utilities, you might be familiar with the fact that you can choose an alternative energy supplier outside of your utility company. In the deregulated energy markets (see map below), electricity can be purchased off the wholesale markets from generators and re-sold to the end user.
Energy brokers, like Diversegy, act as advisors to commercial customers in deregulated markets by helping them to vet supplier quotes, negotiate contract terms, and find low electricity rates. Diversegy has many sales personnel that aid in the negotiation of electricity supply contracts between their customers and Diversegy's energy supplier partners.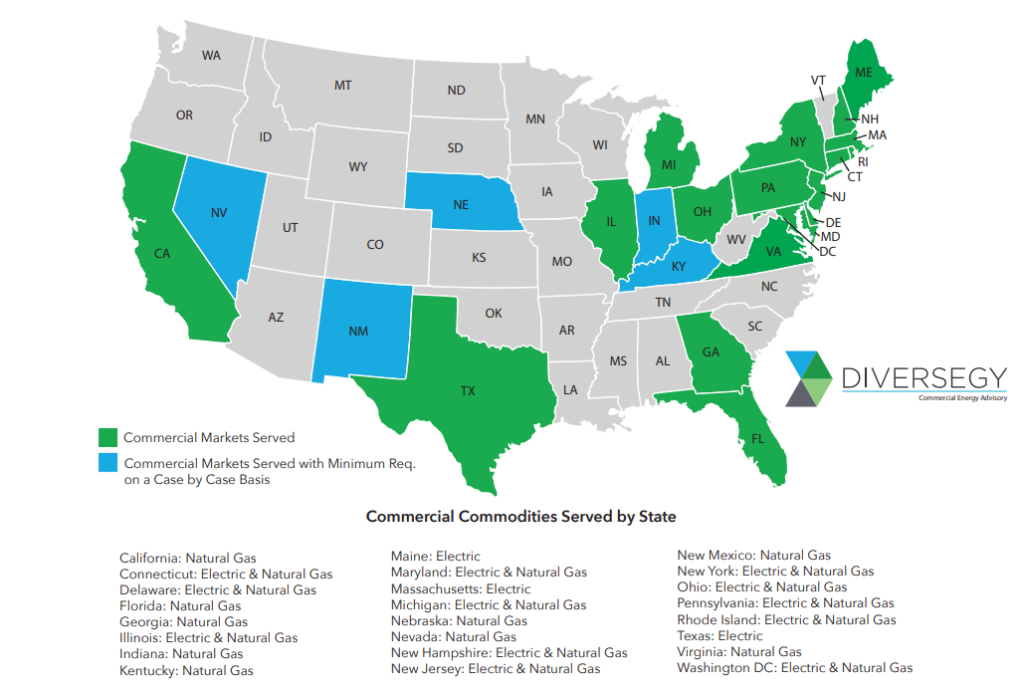 So, How Can I Make 100K Per Year Selling Electricity
?
Simple. Not easy. Energy sales people and sales agents have unlimited earning potential when it comes to selling electricity or natural gas to commercial customers. The more customers sold, and the more energy consumption from those customers, the more income a sales person can earn. Since energy sales people are paid on the energy usage of their customers, larger users equate to more commissions and lots of smaller users can earn you big dollars. Here are the 3 steps to making your first $100,000 in the energy broker business…
The first step to earning a six figure income in the energy business is to set a realistic goal. Assume that you are making a specific gross margin on every kWh of electricity consumed and work into the numbers backwards…
Assume your take-home margin on every kWh used is $0.0025 (or 2.5 mils)

Earning $100,000 per year ($8,300 per month) means your customers burn 3.32 million kWh per month

Set a date as to when you want to have enough customers to meet your goal
2.) Pick A Target Market
.
Okay, now you know you need to close enough customers to get to 3.32 million kWh per month or 39.84 million kWh per year. Now, you need to pick a target market to go after. It is very challenging to simply say 'I'm going to go after all types of customers' because in the energy business, anyone can be your customer. You can get distracted and discouraged in the sales process if you are not focused. Choose a sector to target such as cold storage facilities, hotels, or restaurants, and become the master at selling electricity to your sector.
3.) Run The Numbers and Work Your Plan
.
If restaurants happen to be your focus, decide on what the average restaurant customer will use. After you've determined your average customer's energy usage, you can work backwards to come up with an actionable plan. It might look something like this…
Restaurant average annual kWh usage: 300,000 kWh

Total annual kWh goal: 39.84 million kWh

Customers needed to reach goal: 133
Now that you now you need 133 customers in order to reach your goal of earning $100,000 per year residually, you simply need to work your plan. Figure out how many cold calls, prospecting emails, or face-to-face visits it takes to sell one customer. You might have to talk to 10 restaurants to close 1. And, as you get better that number might improve. Once you figure out your close ratio, simply take consistent action every day and you will achieve your goals. Need help setting your energy career goals? Contact one of our energy advisors today!
What are the Key Benefits of Selling Energy for Diversegy
?
Diversegy's full-serve sales platform offers agents, teams, brokers, and customers many benefits. Our program is a commitment and investment into the future of the competitive retail energy industry. Here are some of the key benefits of our platform:
What Value Does Diversegy Deliver to Energy Customers
?
Diversegy's new platform empowers sales agents and energy brokers to develop, evaluate and quote low-cost energy supply options for commercial customers. Due to the efficiency that our new technology brings to a transaction, energy customers will benefit by paying lower prices and saving money on their utility bills. For more information on becoming a Diversgy customer, please contact us.